Wide mouth bottle within 5L PET Bottle Blowing Machine Manufacturer
The main parts of the wide-mouth blow molding machine we produce are all internationally renowned products such as Japan's Mitsubishi PLC and touch screen, Germany's Schneider Electric, Japan's Xinbao reducer, Taiwan's Xinjie servo motor, and Taiwan's AirTAC pneumatic accessories. It has the advantages of wide application range and low cost. It is suitable for blowing various shapes of carbonated beverage bottles, mineral water bottles, pesticide bottles, cosmetic bottles, large-caliber bottles, medicine bottles, hot filling bottles, etc. Ideal packaging solution for chemical, grease and other industries.
Partially Automatic Blow Moulding Machine for Wide Mouth Jars- These are manufactured with a single cavity and can offer ultimate protection of its neck during blowing and heating. Partially Automatic Blow Moulding Machine for Wide Mouth Jars are most beneficial to manufacture wide-mouthed jars where the capacity of up to 800 jars can be achieved. The neck size for production ranges between 38 and 110mm with a maximum capacity of 2.5 litres.
These Low Cost Pet Stretch Blow Moulding Machines used mainly to manufacture wide mouthed jars with production rate of up to 800 jars per hour. The neck size ranges from 38 and 110 mm, with maximum capacity of 2.5 liters. Manufactured with Single cavity, these machines offer unique neck protection during blowing and heating.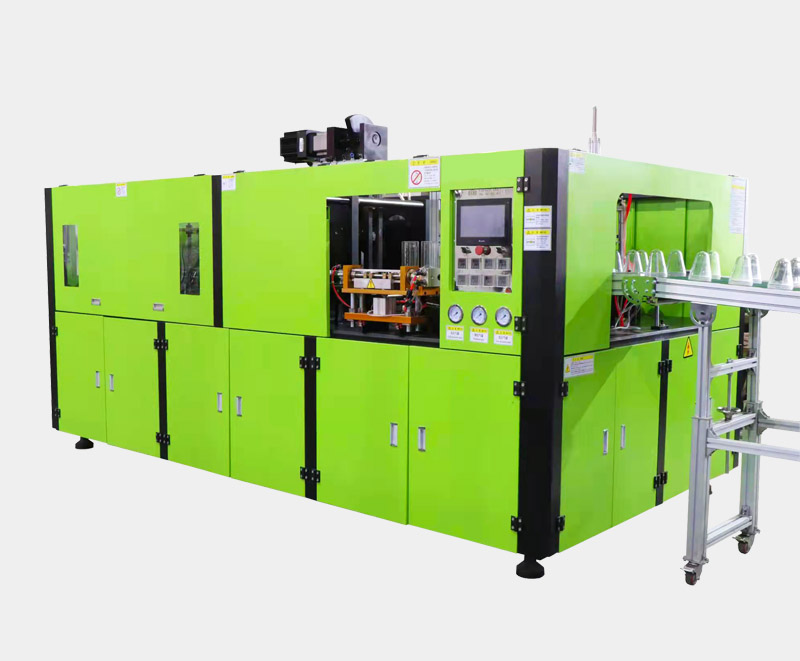 1.pet blowing machine jar use wooden cases packaging
2. accessories machines use wooden cases
| | | | | |
| --- | --- | --- | --- | --- |
| ITEMS | UNIT | BG-A1-120MM | BG-A1-80MM | BG-A2-120MM |
| Number of cavities | Cavities | 1 | 2 | 2 |
| Max volume | L | 5L | 2L | 5L |
| Neck sizes | mm | 50-120 | 50-80 | 50-120 |
| Max.bottle dia | mm | 170 | 103 | 170 |
| Max.bottle height | mm | 350 | 330 | 350 |
| Theoretical output | bph | 600-700 | 1500-1800 | 1000-1200 |
| Rated power | kw | 25 | 35 | 45 |
| Power of consumption | kw | 12-15 | 15-20 | 20-25 |
| Main machine size | m | 2*1.4*2.2 | 2.7*1.8*2.1 | 3*1.9*2.2 |
| Weight | kgs | 1600 | 2500 | 3000 |
3. blowing mould can install onto blowing machine or seperately packed inside wooden boxes
4. 20' GP container can pack 2 set machine
5. 40' HQ container is suitable for 2 complete set
Port
Ningbo, Shanghai, Guangzhou, Yiwu
Using advanced microcomputer control system, the performance is stable. In terms of temperature control, the ruby lamp is used for heating, which has strong penetrating power, the preform is heated by rotation, the orbit revolves, and the heating is uniform, fast and reliable; the width and height of the lamp and reflector in the heating area can be adjusted to suit different structures. The preform is heated, and there is an automatic temperature exhausting device to ensure the constant temperature of the drying tunnel. At the same time, it adopts high-pressure booster and double-curved arm continuous mold clamping, which has strong clamping force. The air path design divides the action and blowing into three parts to meet the needs of different air pressures for bottle blowing and action; the safe, reliable and unique position reading design makes the air path clear at a glance.
Installation and start-up is simple, and the scrap rate of finished bottles is less than 0.2%. There are two modes of operation: manual and automatic. The production process is fully automated, which has the advantages of low investment, high efficiency, convenient operation, simple maintenance, and safety. Each mechanical action has a safety self-locking device. When a process fails, the program will automatically switch to a safe state. Each action is driven by servo, no oil pump is used, and it has the characteristics of no pollution and low noise.
2G130 Automatic machine connection machine
Output
up to bottle shape
1300-1500bph
Power
power voltage
3Phase 380V /50HZ
Finished Bottle
bottle body diameter
45mm-100mm
installed power / actual power
48kw/23kw
bottle height
50mm-250mm
Air Source
high pressure air compressor
3.2m3/min 3.0MPa
bottle neck diameter
55mm-120mm
low pressure air compressor
2.0m3/min 1.0MPa
Mold
cavity
2cavity
Cooling Water
water yield
15L/min
mold thickness
200±5mm
Blower Dimension
length*width*height/ 
3850*2200*1900mm/3500kg
Max. stretching distance
450*380mm
Preform- loader Dimension
length*width*height/ 

5000*500*1300mm/200kg





Professional blow molding machine manufacturer

TAIZHOU BORG BLOWING MACHINE SAMRT EQUIPENT CO,LTD.
---