Plastic Bottled Water Bottle Automatic Blow Molding Machine
Servo-driven mold clamping system adopts straight rod type two-way mold clamping device, bottom mold and mold opening and closing are linked together, and double-side pneumatic boost compensation reduces running vibration and noise, and improves the efficiency and stability of blowing;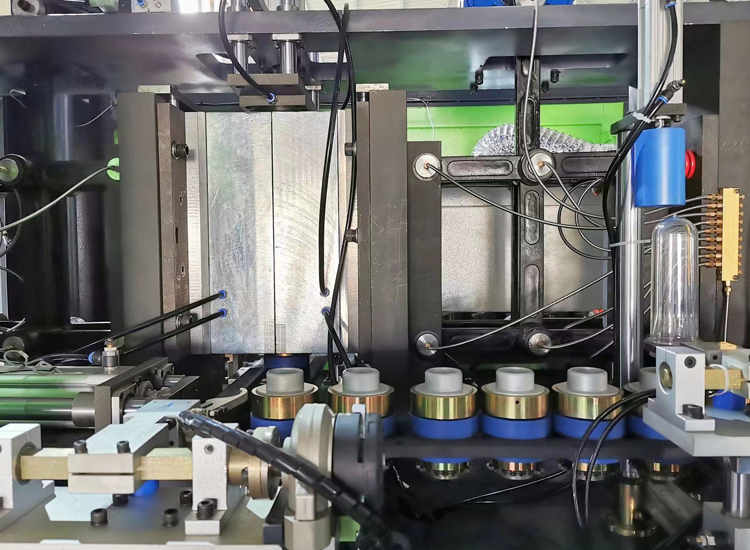 High-pressure pressurized mold clamping is beneficial to the locking of molds and reduces the generation of product Huff lines;
The use of self-lubricating steel sleeves and copper sleeves can reduce the amount of lubricating oil, ensure the high-speed operation of the machine, and prolong the service life of the machine.
Servo-driven preform movement, precise adjustment of preform movement pitch, and more accurate positioning.
There is a testing mechanism before blowing the bottle, which is conducive to the detection of the preform.
The intelligent temperature control system is equipped with the preform rotation system and the bottle mouth cooling system to ensure that the preform is heated evenly and does not deform. Each lamp tube can be controlled independently, with precise temperature control and easy adjustment;
The heating lamp adopts ruby infrared lamp, which saves 25% energy compared with the yellow halogen lamp.
The whole machine is controlled by computer, and the operation is simple. Once the machine fails, the PLC automatically sends a fault diagnosis report to the touch screen, and the operator can troubleshoot quickly and accurately.
Professional blow molding machine manufacturer

TAIZHOU BORG BLOWING MACHINE SAMRT EQUIPENT CO,LTD.
---