1.5 liters,6-cavity 45000-4800pcs/hour,servor systerm,high speed,Low noise,full automatic blowing machine
Features:
A. Stable performance with advanced PLC.

B. Conveying preforms automatically with conveyor.

C. Strong penetrability and good and swift distribution of the heat by letting the bottles rotate by itself and revolute in the rails simultaneously in the infrared preheater.

D. High adjustability to enable the preheater to preheat preforms in shapes by adjusting the light tube and the length of the reflecting board in the preheating area, and eternal temperature in the preheater with an automatic thermostatic apparatus.

E. High safeties with security automatic-locking apparatus in each mechanical action, which will make the procedures turn into a state of safety in case of a breakdown in certain procedure.

F. No contamination and low noise with the air cylinder to drive the action instead of the oil pump.

G. Satisfaction with different atmospheric pressure for blowing and mechanical action by dividing the blowing and action into three parts in the air pressure diagram of the machine.
H. Strong clamping force with high pressure and double crank links to lock the mold. I. Two ways of operating: Automatic and manual.

J. Safe, reliable, and unique design of the position of valve to make the air pressure diagram of the machine easier to understand.

K. Low cost, high efficiency, easy operation, easy maintenance, etc, with automatic technological process.
L. Contamination is avoided for the bottle body.

M. Ideal effect of the chilling with the chilling system. N. Easy installation and starting

O. Low rejection rate: Less than 0.3percent.
1.5 liters,6-cavity 45000-4800pcs/hour,servor systerm,high speed,Low noise,full automatic blowing machine
Automatic PET Bottle Blow Moulding Machine is a high speed linear blow molding machine which is developed and manufactured by our Company using the most advanced bottle blowing technology in the world. Owing to the machine's high degree of automation, high production efficiency, high safety, high stability and reliability, the products made will not be contaminated in any intermediate steps, and it can be matched up directly with the production line of filling and can be widely used in production of mineral water, carbonic acid beverage, juice, tea and heat-resistence bottle product.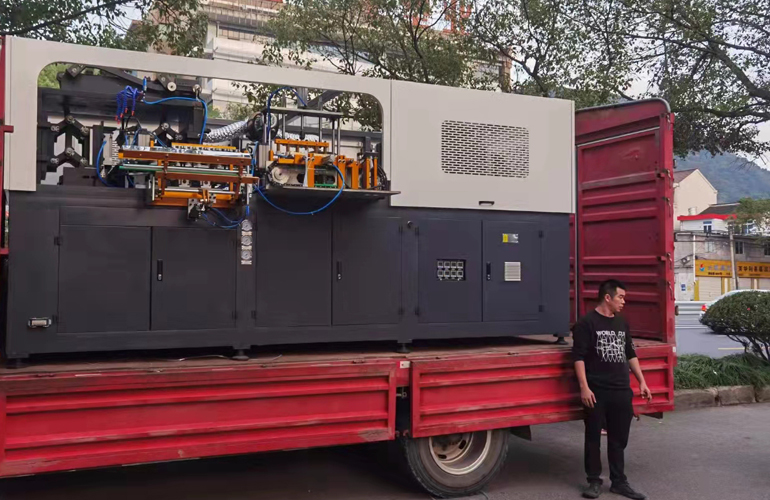 6-Cavity Automatic Pet Water Bottle Blow Moulding Machine
Being a customer centric organization, we are involved in manufacturing, exporting, trading and supplying a supreme quality range of 6 Cavity Servo Full-Automatic Bottle Blowing Machine in Zhejiang, Taizhou, China.
Theoretical output:6500Pcs/h
Max. Volume:1.5L
Max. height:360mm
Max. diameter:105mm
Number of cavity:6
Mould plate dimension(LxH):840x360mm
Mould thickness:198mm
Mould opening stroke:110mm
Power:220-380V/50-60Hz
Total power:35KW
Heating power:32KW
Operation pressure:0.8-1.0Mpa
Action air consuming:a Y1.6m3/min
Blowing pressure:2.6-4.0Mpa
Blowing consuming:a Y1.6m3/min
Main body dimension(LxWxH):4.5X1.9X2.0M
Main body weight:3200KG
Preform conveyor dimension(LxWxH):2.1X1.9X2.4M
Preform conveyor weight:300KG
Professional blow molding machine manufacturer

TAIZHOU BORG BLOWING MACHINE SAMRT EQUIPENT CO,LTD.
---